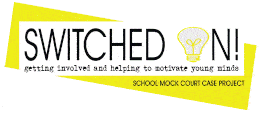 Jun 20
20th
Registrations 20/21
Registrations for the next academic year are open, although due to COVID-19, the number of programmes has been restricted. All tutorials will be virtual. See home page for details.
Jun 20
18th
Junior Scottish Winners
Congratulations goes to James Gillespie's Primary School who picked up the Anderson Strathern Mooting Cup, beating schools from across Scotland.
Jan 20
25th
Seniors International
Students selected from around Scotland will be heading off to Poland to compete in the 5th International Moot Court Competition against 12 other countries.
Dec 19
30th
Juniors Update
Schools in Edinburgh and Glasgow 1 are preparing for their intermediary trials. Glasgow 1 & 2, Hamilton and Ayr have their Speciality Day soon in Glasgow, while Inverness and Aberdeen have theirs in Inverness.
Apr 19
30th
Update
Regional representatives appointed for 2019/2020 - see Trustees section for more details. Juniors Finals and Awards ceremony will be held at Central Hall, Tollcross, Edinburgh on 4th June. Registrations will open soon for the next academic year (new regions - Juniors - Selkirk and Livingston) including the Mock Court International 2020.
Sep 18
3rd
Update
This year we are running an unprecedented 17 projects, spanning central Scotland in the Junior, senior and for the first time, study programmes. Circa 100 schools are involved. We are also looking at further international opportunities. This will be our 10th anniversary - a long way from when we started with just one programme, two schools and 40 students!
Jul 18
2nd
All Mock Court Registrations CLOSED
Registration for both the Juniors and Senior Programmes are now closed. All regions are running, most are full. Apologies to the many schools that were unable to get a place. Registrations for the studies programme will remain open until the early part of the new academic year.
Jun 18
8th
Winners - Trans-Atlantic Mock Court
Appearing before The Rt Hon Lady Dorrian (Scotland) and The Hon P. Kevin Castel (NYC) in the Federal Court in New York against William Cullen Bryant High School, the Scottish team were announced the winners of the first ever Trans-Atlantic Mock Court Competition.
Jun 18
6th
New York, New York
The winning team in the Seniors section, Students from Dunbar Grammar, will head off for a week to New York. As part of their trip, as well as taking in the sights New York has to offer, they will compete with a local school in the Federal Courts as well as attend a school for a day. The Rt Hon Lady Dorrian will also fly over to NYC to sit with an American Judge. Our thanks go to Brodies LLP who sponsored this trip and to the Justice Resource Centre, part of the New York Education Department, for helping us organise this trip.
May 18
1st
Chair Visits the North of Scotland
Gerald Murphy, together to Jamie Gardiner, Advocate, will visit both Inverness and Aberdeen, meeting teachers, councillors and solicitors interested in havng the project expand to the North. For further details, speak to Mr Bambford at our office.
Apr 18
27th
Senior Registrations OPEN for 2018/2019
Registrations for the next academic year for the Seniors are now open. In addition to Edinburgh and Glasgow, Aberdeen and Ayr have been added as well as us looking at Inverness and Hamilton. Seniors in Edinburgh will also have the chance to register to take part in two trial study programmes - Legal Studies and Neuroscience. Both these courses run independant of the Mock Court Programme and each will run for 8 weeks after school.
Jun 17
27th
Registrations CLOSED for 2017/2018
Registrations for the next academic year have been closed with a record number of schools registering to take part. All six Junior regions will run, together with the two Seniors Projects. In all, some 80 schools have registered to take part, encompassing circa 3,000 students.
Jun 17
5th
Registrations Filling Up
Closing Soon
Over the last week or so, we have seen a real surge in the number of schools registering to take part in the project over the next academic year. As a result several regions are almost full, meaning these areas are likely to close for registrations prior to 23rd June '17. We would also like to thank all the Councils that have thrown their support behind this project. Details of the JUNIORS project can be found HERE. For the SENIORS, go HERE.
May 17
2nd
Registrations Open
Projects Expand
We are delighted to advise that not only are the registrations open for both the Juniors and Seniors, but that both are being expanded for the next two academic years. Following meetings with Education Scotland and the Lord President, the Seniors project will operate in both the East and West of Scotland and the Juniors will now run six projects - Lothians, Falkirk Glasgow, Ayrshire, Central and Tayside & Fife. Further details will be sent to the schools or can be obtained from our Administrators.
Apr 17
3rd
Registrations to Open
Both Junior & Senior Sections
Schools will be able to register for the next academic year once registration process re-opens. Last year over 30 schools missed out due to the demand we face and very limited spaces in each of the five projects.
Feb 17
27th
Breaking News
Judges Announced for Finals
The finals for the Juniors this academic year will see a Judge from the General Court of the European Union who has agreed to travel over from Luxembourg to sit, together with The Rt Hon Sir David Edward, who was one of the inaugural Judges of the then newly created European Court of First Instance and later in 1992, was appointed a Judge of the European Court of Justice. The third Judge to sit will be announced shortly.
Feb 17
27th
Finals
Juniors Section
The winning teams (one pursuer and one defender) from each of the three regions will go head to head to determine the winning school for Scotland and to pick up the Mooting Cup. The finals will be heard by a panel of three judges in Central Hall, Edinburgh. During the day, in between trials, various schools will have students singing or dancing. Other regional awards will also be handed out, including best artist, best gown maker, journalism and advocacy. The Mooting Cup will be present by Lady Dorrian, the Lord Justice Clerk. Parents are welcome to attend
Jan 17
16th
Trials Start
Tayside & Fife Schools
The schools taking part in the Juniors section of the project in Tayside and Fife will start their trials this week in Dundee Sheriff Court before either Sheriff Way or Sheriff Drummond. Trials will run over two nights and will start at either 4.30pm or 5.30pm and should be concluded by 7pm. Parents and family members are welcome to attend.
Nov
29th
Trials Start
West of Scotland Schools
The trials for the schools in the West of Scotland project (Juniors) start and will run over three nights in the High Court of Glasgow. Trials will start at either 4.45pm or 5.45 and should be concluded by 7.15pm. Up to four courts will be running at a time. Parents are welcome to attend
Nov
7th
Trials Start
Lothian Schools
The trials for the Lothain Juniors project start and will run over three nights in Edinburgh Sheriff Court. Trials will start at either 4.30pm or 5.30 and should be concluded by 7pm. Parents are welcome to attend
Nov
3rd
Awards Ceremony
Seniors Project
The Awards Ceremony for the Seniors section will be held in the Signet Library, kindly sponsored by the WS Society. The Eve Crowe Mooting Cup will be presented by Lady Dorrian and the Sheriffs that presided over the trials will present other awards. Several schools will be performing as will Miss Sarah Laing. This is a black tie event, save for students who will be in full school uniform. The event will run from 6pm to 8pm. Parents and guests are welcome to attend.
Oct
31st
Speciality Day
West of Scotland
The Speciality Day for students taking part in the West of Scotland will be held in the Banqueting Hall, Glasgow City Chambers from 10am to 12.15pm. Numerous speakers will address the students, from law, to phone security to gown making.
Oct
31st
Trials Start
Seniors
The trials for the Seniors project will start in the Court of Session over two nights. Parents are welcome to attend.
Oct
7th
Teacher/Tutor Training
Tayside/Fife
A Joint teacher/tutor training session will be held in the Tay Board Room, Perth Concert Hall for those involved in the Tayside and Fife project
Sep
23rd
Teacher/Tutor Training
West of Scotland
A Joint teacher/tutor training session will be held in the Mock Court in Glasgow University for those involved in the West of Scotland project
Sep
8th
Speciality Day - Lothians
All students taking part in the Lothians project should attend the speciality day to hear from experts in various fields. The event is being held in the Edinburgh University George Square Lecture Theatre.
Aug
31st
Lothians Project Starts
The first of the weekly Senior tutorials starts this evening in the new venue - Edinburgh University School of Law 9B Holyrood Road. This year there is a new project and a new medical section.
Aug
29th
Lothians Project Starts
During the week commencing 29th August, students in the Juniors project will get their first tutor visit, following which, initial writs and defences will have to be prepared
Aug
19th
Teacher/Tutor Training - Lothians
A Joint teacher/tutor training session will be held in the SSC Library (Court of Session) for those involved in the Lothians project
May
25th
Registrations Close
Registratons for both the Senior and Junior projects close as all projects fill.
The West of Scotland has been swamped with registrations, with more than 25 schools trying to register.
Blog Section
This is the general blog section for members of the public. Teachers, tutors and students are encouraged to log in and check the forum for more up to date and relevant information.
As this blog is only updated periodically, those wishing more information are asked to contact us or look at our social media pages. All our details can be found on the contact page.