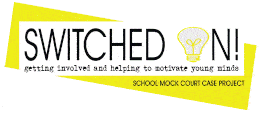 Board of Trustees
Gerald Murphy
Chairman

Born and educated in New Zealand. Gerald was the founder of this project and involved from inception. He is involved in commercial debt litigation both in Scotland and England through his role as Director of Chamberlain McBain. Gerald is the secretary for the Institute of Credit Management, East of Scotland Branch. He has a son (32) in New Zealand and a daughter aged 17 - going on 30! During his free time he likes to travel and DIY.
Lewis Richardson
Secretary

Lewis is an Associate with BTO Solicitors.
Kirsty Waughman
Treasurer

Kirsty is originally from south of Glasgow and has always had a keen interest in the legal profession. After completing her undergraduate degree at the University of Dundee and Diploma in Professional Legal Practice at the University of Strathclyde, Kirsty joined Thorntons Law LLP in 2017. Kirsty is now a solicitor with Thorntons in their Commercial Litigation team. Kirsty regularly appears in the Sheriff Court in a wide range of commercial actions. Kirsty became involved in the School Mock Court Project in 2019 as Tayside Regional Representative and is looking forward to taking her place on the Board.
Martin Elliot
Director of Education

Joined the Board in 2020. I have been teaching for over 19 years across various regions of Scotland and have been lucky to have experienced many different roles within Education from Class Teacher to Senior Leader. Now most likely to be found in St Mary's Polbeth frantically preparing a senior class for their Mock Court appearance. Passionate about educating young people through Real Life contexts, I have been involved with the Mock Court Project for a number of years. With my 2 children now grown up and pursuing their own careers, I am able to spend my spare time on 2 wheels indulging in my secondary passion of cycling.
The Rt. Hon Lady Leeona Dorrian

Lady Dorrian is the first female Lord Justice Clerk (second most senior judge in Scotland) and a Senator in the Supreme Court of Scotland. She was also the first female Advocate Depute (High Court prosecutor). Lady Dorrian was born in Edinburgh and became an advocate in 1981. She was appointed Queen's Counsel (QC) in 1994 and was called to the English Bar in 1991. In 2002 she assumed her first post as a Judge. During her free time she has a love for sailing and owns a 35' sailing boat on the West of Scotland where she enjoys visiting remote bays, spotting puffins and dolphins and hiding from strong winds.
Non-Board Management Members
Peter Kingsbury
Director of Examinations

Peter lives in Edinburgh with his wife, Kirsty, also a teacher. He has been at Pencaitland Primary School in East Lothian for far too long! Before moving to Scotland, he lived and worked in Yorkshire following his graduation from York University. His interest in the School Mock Court Project started when he entered his P7 class in 2017. During the following year he became a marker for the primary project. In his spare time, Peter is a keen cricketer with Penicuik Cricket Club. He is also involved with both the East of Scotland Cricket Association as treasurer and also as the East representative on the board of Cricket Scotland.
Stephen Waclawski
Director of Writings

Stephen Waclawski qualified as a solicitor in 2007 and became a solicitor advocate in 2016. He has been a court practitioner since he qualified, representing clients before the Sheriff Court and Court of Session. He is experienced in Personal Injury litigation, Clinical Negligence litigation and Professional Discipline and Regulation. He works for BTO Solicitors LLP. Stephen has been working with the School Mock Court Case Project since 2014/15. He has assisted rewriting the Seniors project from 2016/17, the juniors project from 2017/18 and in 2017/18 was part of the team which wrote the problem question for the Transatlantic Mock Court Competition in New York. He has tutored seniors teams every year in the Seniors Competition. He was part of the team which gave the advanced advocacy course to selected pupils in 2017/18. He tutored the Scotland team which competed at the International Moot at The Hague and the Scotland Team for the Transatlantic Mock Court Competition in New York in 2017/18. He assists in training the tutors for the Seniors project. Stephen is also a co-conspirator with Mr Murphy for ideas to develop and improve the Projects.
Jordan Smith
Director of Youth Engagement

Jordan competed in the senior project in S5 and been a member of the Scotland team for the International Moot Court in The Hague, Jordan was involved in the School Mock Court Project as a participant before becoming more involved in tutoring and engagement roles. It was the project which cultivated his interest and lead him toward studying law at the University of Edinburgh with an aim to working in litigation. In his other pursuits, Jordan is a member of the university's Mooting Society, a rugby enthusiast and a keen piper.
Dr Marshall Garratt
Director of Medicine

When not trying to produce complex, yet totally believable, fictitious scenarios and medical evidence for the Scottish Mock Court Project, Doctor Garrett is the Honorary Senior Lecturer in Medicolegal Medicine at Glasgow University and has been a Medical Expert Witness for nearly 30 years. With a background in trauma, both civilian and military, his principal role is to provide a complex and demanding medicolegal scenario for use in each Mock Court project. This is supplemented by provision of expert medicolegal guidance to participants with scheduled teaching and mentoring sessions throughout project schedule. He particularly enjoys interacting with the students and encouraging them to explore different tactical approaches to each individual scenario, explaining the pros and cons of their argument and encouraging logical thinking. His particular pleasure is watching the students expand their ability to take complex information out-with their normal level of experience and developed an ability to formulate cogent arguments based on evidence. He prefers an informal and collaborative approach with all students, believing that the new experience of Mock Court helps all participants realise undiscovered potential and gain confidence going forward.
Sheriff Frank Crowe
Director of Judiciary

Frank sits as a sheriff at Edinburgh Sheriff Court and has done so since 2008. A previous student at Edinburgh Royal High, he describes himself as "a very undistinguished pupil who hated team games!". He undertook a law degree at the University of Dundee and joined Procurator Fiscal Service becoming Deputy Crown Agent and a solicitor advocate. Frank became a sheriff at Dundee in 2001 and was Director of Judicial Training 2004-8. Frank would like to help pupils interested in a law career or the work of the court.
Iain Dalglish
Child Protection Designated Person

Iain lives in Musselburgh. He is married to Susan and they have two grown up children, Ruairidh and Mhairi. Prior to retirement he had been Headteacher of King's Park Primary School in Dalkeith for 16 years. Iain was Lead Examiner for the Mock Court Case project for the past 8 years and his other interests include chairing Education Appeals' Committee meetings. For his leisure time he enjoys hillwalking and cycle touring – most recently the NC 500 and the Hebridean Way. As the Child Protection Designated Person, he can be contacted directly by clicking HERE
Regional Representatives
Regional representatives work with The Board to help administer the programme (Juniors and Seniors) in their locality. This will include recruiting and assigning tutors and liaising with the courts. * Also includes a Seniors programme
Joanna Lang
Aberdeen
*

On completion of her undergraduate degree at the University of Aberdeen, Joanna joined a law firm in Aberdeen where she completed her traineeship in September 2012 and qualified as a solicitor within the commercial litigation team. During this time Joanna regularly appeared in sheriff courts throughout Scotland in a wide range of civil matters, including personal injury, debt recovery and building disputes. In November 2017 Joanna decided to move into the field of construction litigation, where she is now an associate in a large international law firm. Outside of work she enjoys visiting new countries, experimenting in the kitchen and relaxing with friends and family. After being a tutor on the Mock Court Project and seeing first-hand how engaged the children were in the Project, Joanna is delighted to represent Aberdeen and to help promote the continued success of the Project
Norman Fraser
Ayr
*

Norman has been a solicitor in private practice for over 20 years, specialising in Civil Court and executry work. He has been a supporter of the School Mock Court Project since 2016, working with both junior and senior students. In his spare time he enjoys playing golf and walking dogs.
Robert Hovey
Lothians (excl West)
*

Rob completed his 2 year traineeship with one of the leading litigation firms in the world before commencing deviling with the Faculty of Advocates. He specialises in all areas of personal injury with a particular interest in fraudulent claims and regulatory crime. Rob has been a supporter of the Mock Court Project for the last 3 years, acting as a tutor on the Seniors Project. In his spare time, Rob can be found walking and climbing throughout Scotland.
Andrew Stevenson
Glasgow 1 & Glasgow Seniors
*

Andrew attended Glasgow University where he graduated in law in 1988. He qualified as a solicitor in 1990 since which time he has practised widely in virtually all areas of civil litigation and has appeared in both the Court of Session and many sheriff courts. Andrew is President of the Glasgow Bar Association, the first civil solicitor advocate to be elected to that office. He was first elected as an office bearer of the GBA in 1999 when he started a three year period as Treasurer. He was a reporter to the Client Relations Office of the Law Society of Scotland between 2004 and 2011. Andrew has been appointed as commissioner to recover evidence in both civil and criminal actions and in various sheriff courts including the All Scotland Personal Injury Court. He is a contributor to Greens Litigation Styles and has written many articles for, amongst others, The Juridical Review, Scottish Law and Practice Quarterly and The Journal of the Law Society of Scotland. Also, he has spoken at seminars on civil procedure. Andrew is a partner in the firm of Hennessy Bowie, Glasgow.
Catriona Smith
Glasgow 2 & Glasgow Seniors
*

Catriona has always taken an active role in social mobility within the legal profession. She completed her LLB(Hons) at the University of Glasgow and was appointed as Irwin Mitchell's IM 'Aspiring Representative', being responsible for providing valuable and varied work experience to pupils from less privileged backgrounds to encourage them to enter the legal profession and to study Law. Since 2014 she has been actively engaged with the Law Society of Scotland delivering lessons in basic legal principals to high school pupils across Scotland as a 'Street Law Trainer' and judging in the Donald Dewar Debating Tournament. Catriona became involved with the School Mock Court Project in 2018 as a tutor. She found the experience deeply rewarding and valuable, by assisting the pupils on how to decipher evidence, draft court proceedings, and cross examine witnesses. In her spare time Catriona enjoys craft and design and a good book, that is, when she is not entertaining her two young children. Catriona is keen for a challenge and never shies away from a new opportunity to enhance herself. Catriona cannot wait to utilise her passion for social mobility as Glasgow's Regional Representative.
Daryle Dickson
Hamilton

Daryle qualified as a solicitor in 2015 having completed her traineeship with North Lanarkshire Council. She now works in the Litigation Team with South Lanarkshire Council and regularly appears at Lanark, Glasgow and Hamilton Sheriff Court. In her spare time, Daryle enjoys spending time with her husband and their two daughters. She also enjoys walking her dog, Molly. Daryle first became involved in the School Mock Court Project in 2018 as a tutor and is very much delighted to be the representative for the Hamilton Region.
Eve Cooper
Inverness
*

Eve was born in Kent, England and moved to the Highlands of Scotland at age 9. Eve studied at the University of Aberdeen where she obtained a Master of Arts in History. Following on from this, Eve commenced her law exams with the Law Society of Scotland whilst working as a Trainee Solicitor. Eve predominantly works in the Private Client department dealing with all aspects of wills, powers of attorney, trusts, executries and guardianships. In her spare time, Eve enjoys walking her dogs, travelling the world and has a particular soft spot for musical theatre. Eve is delighted to be the regional representative for Inverness and is looking forward to bringing law into local schools and encouraging young people to become involved in an interactive legal environment.
Kirsty Waughman
Tayside & Fife

Kirsty is originally from East Ayrshire and has always had an interest in court work, regularly shadowing solicitors in criminal courts throughout school. After completing her undergraduate degree at the University of Dundee and Diploma in Professional Legal Practice at the University of Strathclyde, Kirsty joined Thorntons Law LLP where she completed her traineeship in 2019. Kirsty is now a Solicitor with Thorntons in their Dundee Commercial Litigation team. Kirsty regularly appears in sheriff courts in a wide range of matters including debt recovery actions, landlord and tenant disputes, evictions, contractual disputes and actions concerning professional negligence. Kirsty is also a board member of Young Enterprise Scotland and takes a keen interest encouraging creativity and enterprise in the students involved. Kirsty became involved in the School Mock Court Project in 2019 and is excited to take on the roll of Tayside Regional Representative.
Sheriff MacRitchie
West Lothian

Sheriff MacRitchie is a Solicitor in the Supreme Courts and an Advocate in Aberdeen, who graduated in law from the University of Aberdeen in 1984. He was Dean of Faculty in Peterhead and Fraserburgh from 2001-2011. From 2012 he was Acting Chief Justice, Chief Magistrate, Chief Coroner, Registrar of Lands, President of the Land Development Appeals Tribunal, President of the Media Commission, Chair of the Immigration Appeal Court, Chair of the Mental Health Tribunal and The Labour Regulating Authority, for the UK overseas territories of St Helena, Ascension and Tristan da Cunha in the South Atlantic. In 2017 he was appointed as Summary Sheriff of Lothian & Borders, based at Edinburgh & Livingston.